The ABC Diploma program 2023 Version
In this country of canals and open water, learning to swim is a necessity. A national swimming program called Zwem-ABC ensures that children develop sound swimming and water survival skills and covers everything from freestyle to what to do if you fall through the ice. Your Personal Swim Coach offers the exact same program for their adult swimmers.
The skills required for each swimming diploma are acquired in a logical and progressive way, building on what has already been mastered. The Nationaal Platform Zwembaden publishes a list in English of requirements for each diploma. There is an exam at the end of each level, leading to an offical diploma. These are known as Diplomas A, B, and C.
This exam is joyful event and usually leads to a feeling of pride and satisfaction. These diplomas are translated , international acknowledged and do not get overdue. Most of the B swimmers continue their weekly session in the C group so they keep working on distance swimming and flexibility.
Those who have obtained the A-survival diploma can call themselves a 'successful novice swimmer'. 
The B-survival diploma proves that you are a 'successfull advanced swimmer' with a certain level of endurance and able to assist in rescuing people in trouble.
The C-survival diploma proves that you are a 'successfull accomplished swimmer'; prepared for all kinds of situations in the water. 
Our tailored lessons will get you through each level. Each lesson involves working on the four main strokes and practicing safety and survival skills. On average, intermediate swimmers need about 5-10  lessons to move up to the A group , followed by on other 15-20 lessons to gain their A diploma. Our coaches teach the skills needed and will practice the exam requirements so that you are comfortable and confident to take them.
Clothing
Swimming in clothes is an important component of swimming lessons and diplomas. Each preparation session while heading the exam, starts with swimming clothed and without goggles. Because, after all, should you fall into the water by accident, you will probably be fully clothed and no swimming goggles.
Wet clothing absorbs water and pushes out the air. Swimmers might feel like they are being dragged under water, that is why the level of cloths is gradually build up. Trying to keep afloat is very strenuous. It is not the cloths but shoes, with proper soles, make the challenge complete.
Self-rescue and water safety
Falling in the water unexpected, is often considered and accident and cause stress. Swimming back to the wall side is a different challenge than joining a warm and supervised hotel pool.
Swimmers are expected to know what to do if they find themselves in the water unintentionally. Throughout the A, B and C curriculum swimmers are trained to be prepared for this kind of situations.
Fun and Inspiration
Your Personal Swim Coach organize a diploma event two times a year in each town. If the date does not suit, some swimmers travel to the nearest other town to reach their goal before a certain about of time. A series of swim sessions prior to the event are completely wrapped around the content of the exam. It is theoretically possible to fail, although this is highly unlikely. Coaches don't put their pupils forward for diploma swimming until they are ready. This is communicated with care and on time, all swimmers can follow their progress online too at their personal profile at zwemscore.
While growing to this process with the same group of swimmers, it increased the fun and peer support while gaining this achievement together. Everyone who attends these diploma swim sessions comes away inspired and feeling good about life. You see folks of all ages cheering each other on, and people making courageous comebacks from accidents in water or facing their fear. Hanging around people who are giving it their best makes us feel connected and makes us better too.
Costs
All participants pay € 11,50 for the event in addition to the normal fee of this lesson. This amount will be invoiced as soon as participating the event is mutually confirmed. This fee covers the official document and extras.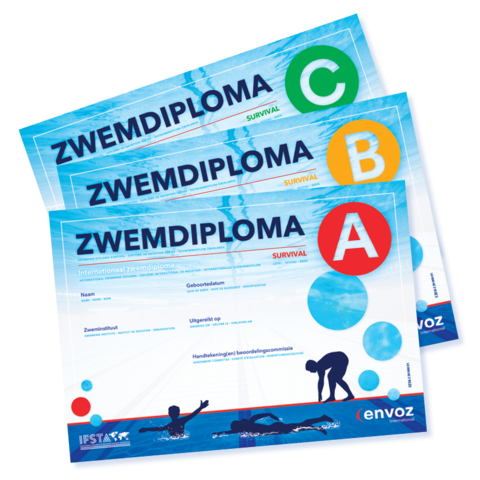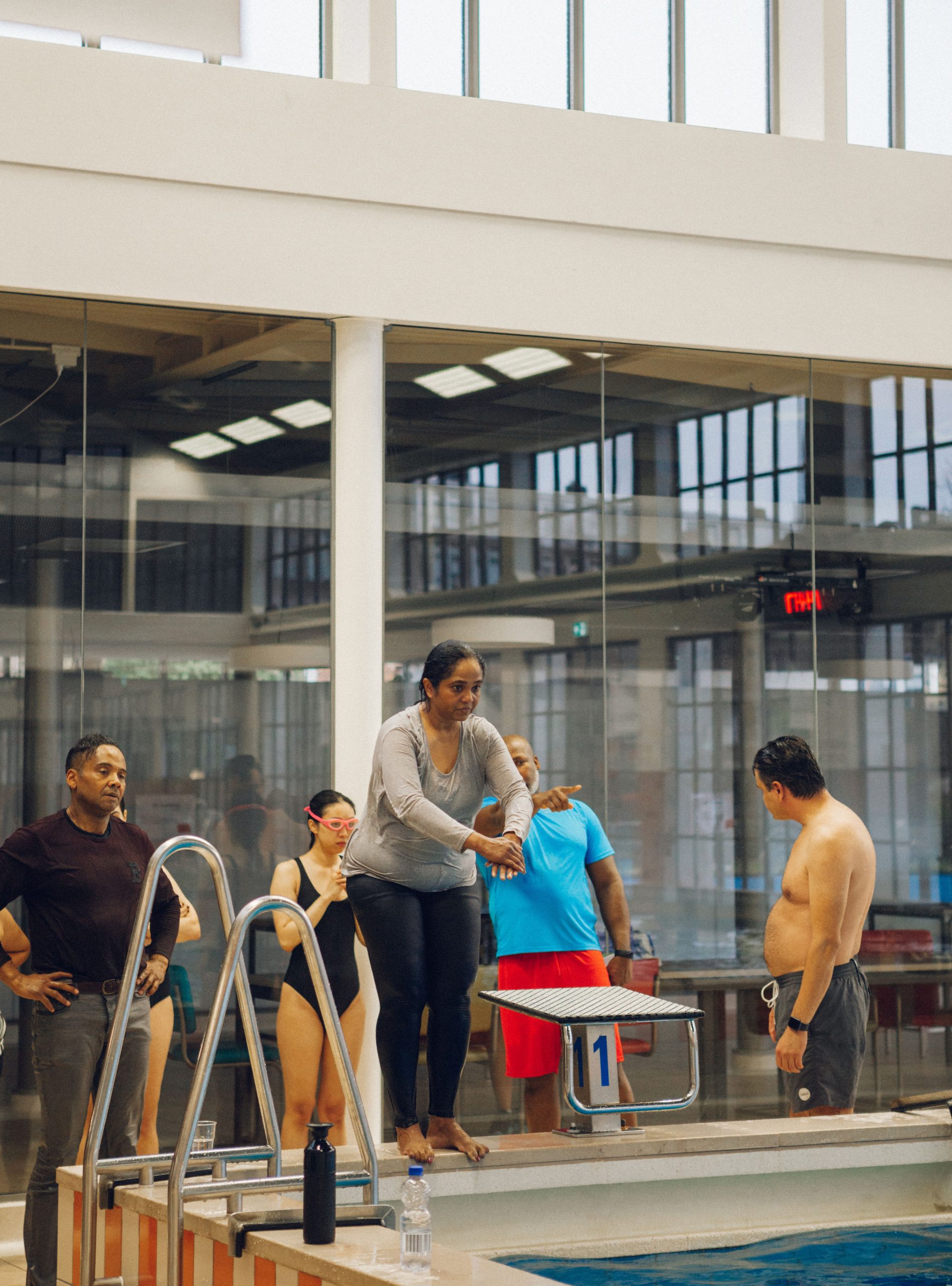 What do I wear at the diploma event?
Each level starts with swimming fully clothed. 
During the lessons prior to the event date, your personal swim coach will ask you to bring the right clothing. Bring a plastic bag too to carry it all back home. The rules have been renewed since 2023
A level: Short-sleeved t-shirt, long trousers and shoes. 
B level: Long-sleeved t-shirt, long trousers and shoes
C level: Long-sleeved jumper, long trousers, shoes and a jacket
What are the costs of the exam?
The diploma exam takes place during a normal lesson. In case this is not your regular lesson, we place based on one make up lesson.  If you do not have any, make up lessons left, we send you an invoice for this single lesson. The costs of the diploma event are € 11,50  in addition to a regular lesson fee. This invoice will be sent by our office prior to the event.
The diploma date does not suit me
The diploma dates are planned, check out the dates for the coming months here.
 In case this date does not work for you, you are most welcome to pick another date in another pool. The drill is completely the same. If it helps, you book an extra lesson ahead to get familiar with the pool first
What is the value of this swim diploma
The diploma dates are planned, check out the dates for the coming months here.
 Your  Personal Swim Coach follows the ENVOZ Survival diploma program, hence on top of the regular skills there are several exercises regarding survival skills included.  The diploma is printed in several languages.  Some professions like fly attendant and police officer demand a swim diploma. We have trained several professionals from scratch.
My future job demands an swim diploma.
Several jobs demand a swim diploma. Throughout the years, we had the pleasure to train airline stewards, policemen and marechaussee . The B and C program are a perfect training for those who are in search for the right preparation. The diploma will be handed out ( hard copy) right after the event. It is an official ENVOZ document  , acknowledged by the global Institute International  Federation of Swimming Teachers Association.
Why should i go for an A diploma
After all the hard work, it is simply a must to celebrate at one day and by very proud too.  By receiving this official document, you can prove that you are capable to deal with certain circumstances as well as swimming all four basic strokes.
Secondly several activities demand a swim diploma ( B) like when you want to join a aqua sport club like waterpolo or triathlon. Also, activities like renting a sailboat of dive equipment, the organization will ask if you obtained a B diploma in the past. Surely, they won't ask for it to show it, but who want to jeopardize safety issues and mutual trust.
At last , public and private pools and waterparks demands childeren to have a B diploma minimum in order to get in. It goes without saying that this applies for adults too.
who determinded the levels ?
The levels of all diploma's are determinded by the set standard for international swimming safety.  
During the last weeks before the diploma date, the coaches will go through the special skills and clothed parts of the level. The rest of the year will be more about general swim technique.
Can I wear my swimcap and goggles ?
The diploma event is a simulation of reallife situations, hence no goggles and caps allows. Do you wear glasses, wear them here too.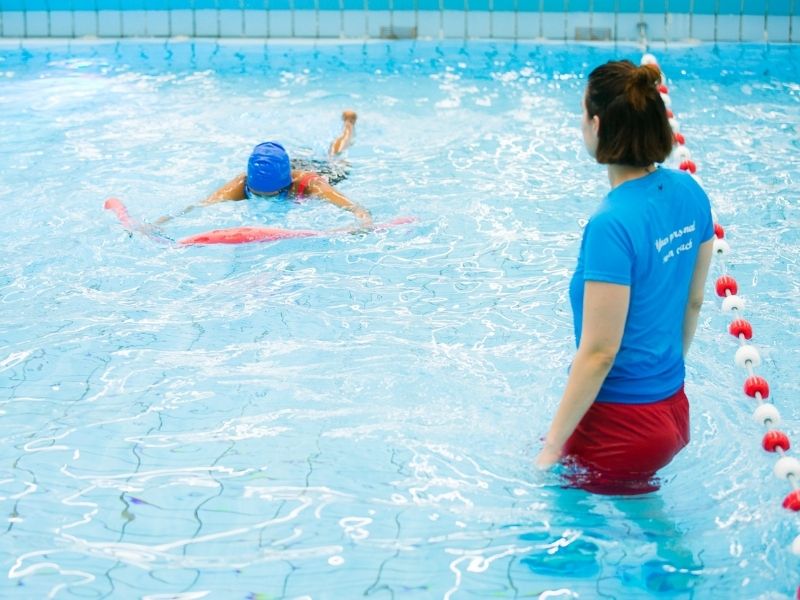 Learn how to float
How an individual floats is determined by the buoyant force from water and the pull of gravity. This article explains floating from a physics point of view.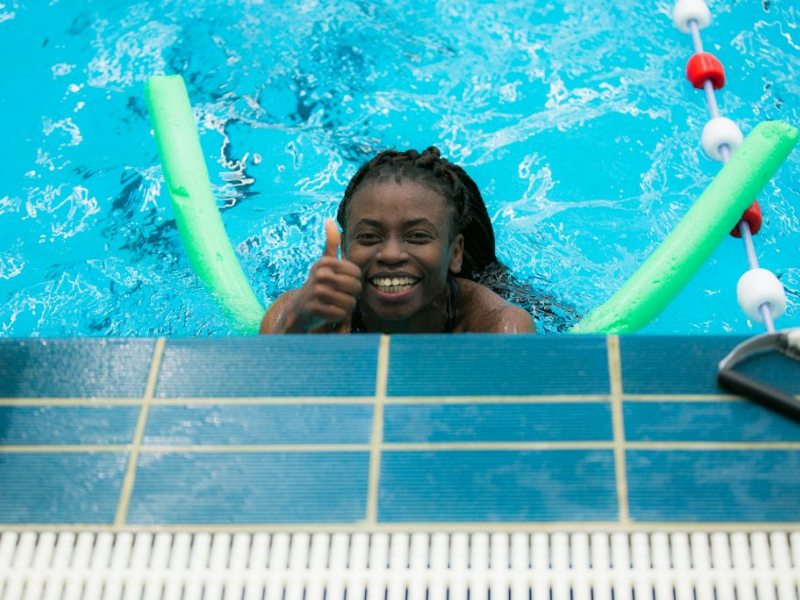 Overcome fear of water
Over the last 6 years Your Personal Swim Coach has helped people who had to deal with a severe fear of water daily. But what exactly is Aquaphobia and how do we deal with it?
Our adult swim classes
Your Personal Swim Coach will help you become a more confident you, a stronger, fitter and healthier you, a happier, care-free you and ensure your success in learning to enjoy and feel safe in and around water!
Water introduction
If you cannot swim at all and are fearful and/or challenged in water generally.
You took classes before and  failed or it has been a very long time ago.
Stroke introduction
You are comfortable in shallow water, but are not able yet to perform all 4 basic strokes.

This level requires for you to have passed the introduction program, or you are able to perform swim an backcrawl and single back stroke (froggie leg).

Intermediate
You can swim comfortable in shallow water, however deep water gives you discomfort.

This level requires for you know all the 4 basic strokes and you have had swim lessons before.
Advanced
You have  no issues in deep water and are able to swim more than one lane without breaking.
These groups works on improving their swimming skills and stamina and follow the program for diploma A, B and C.