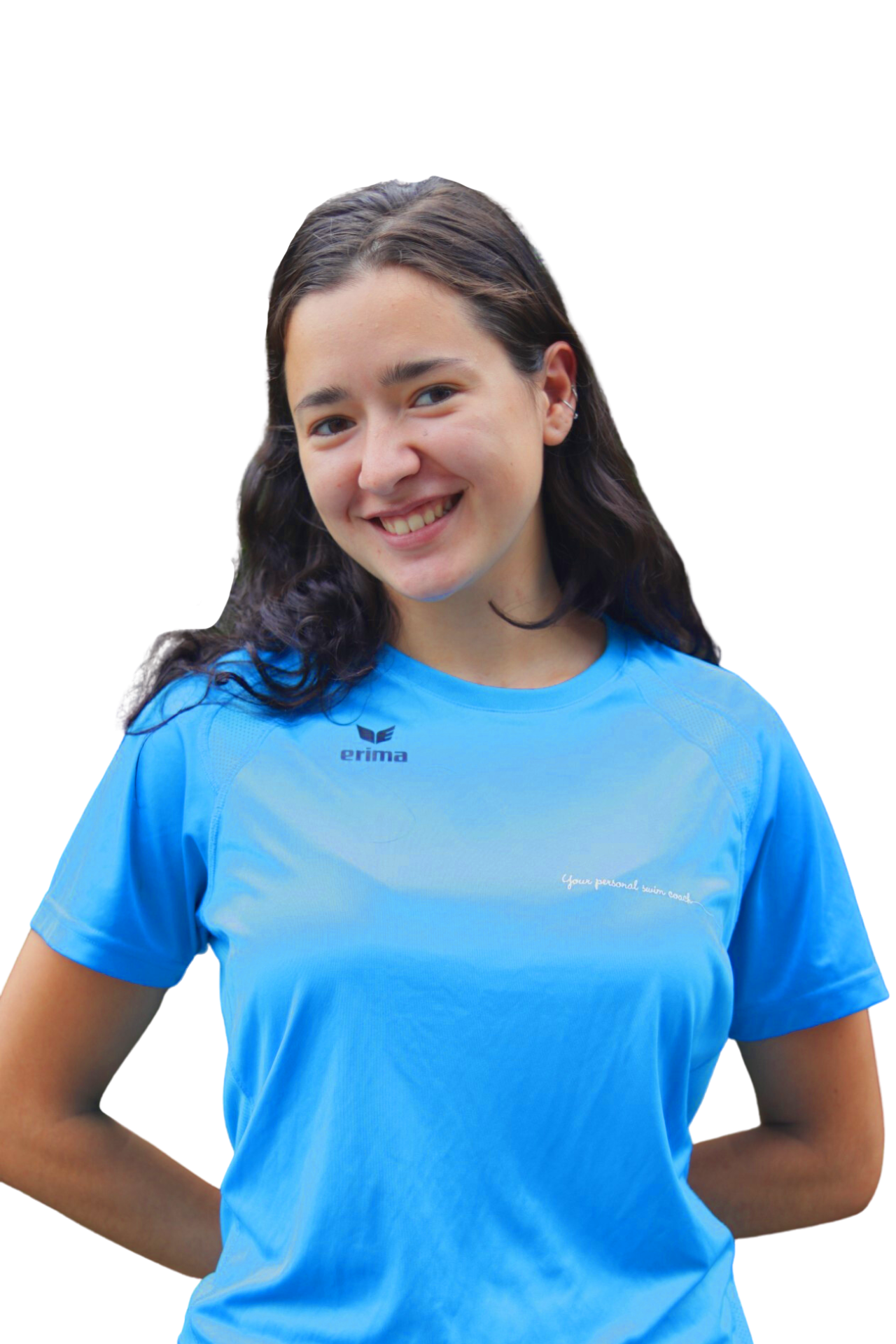 Meet Lucila
Training experience:
3 years
Nationality:
Argentina

In the Netherlands since:
2020
Languages:

English, Spanish, Portuguese, French
You can find Lucila:
The Hague
Personal vision:
"Bend, spread, close and repeat"
Profile
My first time in the pool was with only six months. In kindergarten I started swimming all throughout primary but it wasn't until I was 12 that I started to enjoy it – when I chose to join a swim team. Ever since I have been competing with a club or the school and even attended international meets. In high school I was captain of the varsity team and also coached the junior varsity team and the little kids. This was a great opportunity for me not only to be able to share my skills but also bringing the swimmers closer and make sure that everyone was enthusiastic about coming to the pool.
Coaching Style
In the pool we might all swim together but it is for ourselves. Feeling safe and enjoying the time inside the pool is a very important to boost motivation and get closer to our personal goals. I happily adapt to all swimmers, as it is essential to give everyone a chance at getting confortable and pushing their limits, and this is why you will be encouraged by me at all times. As a coach I will make sure everyone feels accomplished when hopping out of the pool each class and ready to come back for more challenges!
Specialities
I enjoy transmitting my love for swimming and the pool to all swimmers by guiding them every step of the way. Whether it is their first time getting in the water, or working on strength and stamina. No matter at what stage of the journey each one is, keeping their head in the game is very important. The hardest step is deciding and wanting to become better, after that it's important we keep telling ourselves that we can do it all!
Our adult swim classes
Your Personal Swim Coach will help you become a more confident you, a stronger, fitter and healthier you, a happier, care-free you and ensure your success in learning to enjoy and feel safe in and around water!
Water Introduction
If you cannot swim at all and are fearful and/or challenged in water generally.
You took classes before and failed or it has been a very long time ago.
Stroke Introduction
You are comfortable in shallow water but are not able yet to perform all 4 basic strokes.

This level requires you to have passed the introduction program, or you are able to perform a swim a backcrawl, and a single backstroke (froggy leg).
Intermediate
You can swim comfortably in shallow water, however, deep water gives you discomfort.

This level requires you to know all the 4 basic strokes and you have had swim lessons before.
Advanced
You have no issues in deep water and are able to swim more than one lane without breaking.
These groups work on improving their swimming skills and stamina and follow the program for Diplomas A, B, and C.