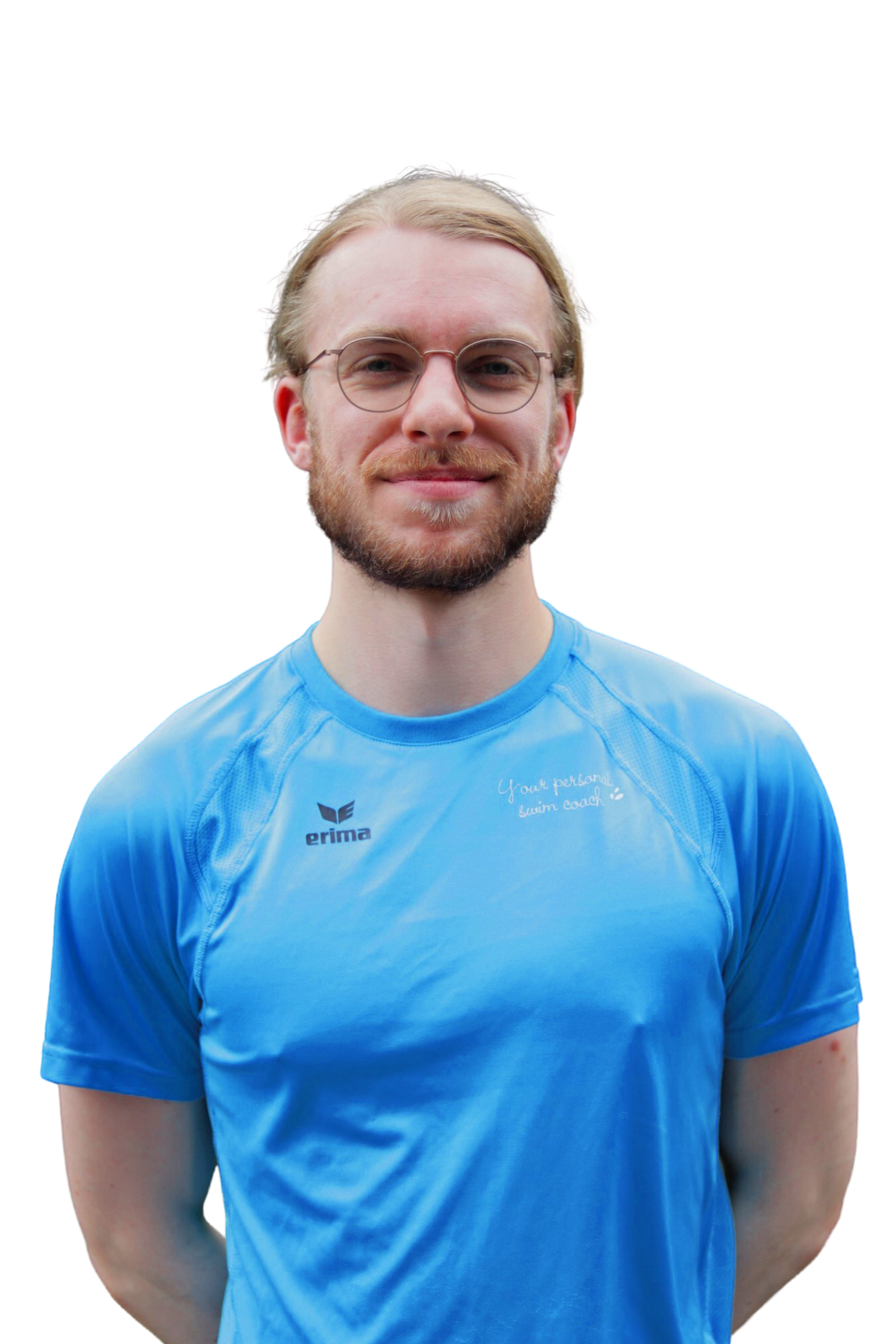 Meet Gijs
Training experience: 3 years
Nationality: Dutch

In the Netherlands since: Ever 🙂 
Languages: Dutch, English and French
You can find Gijs at: Leiden
About Gijs
"Bend, spread, close and repeat"
Born and raised in the province of Zeeland, I am very aware of the importance of swimming. All my life, I have been passionate about survival skills, and swimming in general. My career in the swimming business started as a lifeguard at a local pool. My experiences as a lifeguard have made me passionate for teaching people how to swim. The ability to swim gives you great freedom in a country like the Netherlands, and is vital to your personal safety.
I study Public Administration and French Language and Culture, both at Leiden University.
Certificates
-Swimming Instructor 2
-KNZB Rescue Certificate – 2021, 2022 and 2023
-NIKTA Acute Care Provider
-Red Cross First Aid Essentials
-Rescue Swimming in a Pool. 2020
Coaching Style
Swimming is fun, so swimming lessons should be fun too. With a personal and kind approach, I try to find out what works best for each individual. Humour is my greatest tool in making my lessons useful, and fun at the same time.
Specialities
Being a coach in the Water Introduction Level, I have been successful in helping people overcome their fears, and dealing with lower floating capacities.
"Don't be afraid to make waves; that's how you move forward."
Our adult swim classes
Your Personal Swim Coach will help you become a more confident you, a stronger, fitter and healthier you, a happier, care-free you and ensure your success in learning to enjoy and feel safe in and around water!
Water introduction
If you cannot swim at all and are fearful and/or challenged in water generally.
You took classes before and  failed or it has been a very long time ago.
Stroke introduction
You are comfortable in shallow water, but are not able yet to perform all 4 basic strokes.

This level requires for you to have passed the introduction program, or you are able to perform swim an backcrawl and single back stroke (froggie leg).

Intermediate
You can swim comfortable in shallow water, however deep water gives you discomfort.

This level requires for you know all the 4 basic strokes and you have had swim lessons before.
Advanced
You have  no issues in deep water and are able to swim more than one lane without breaking.
These groups works on improving their swimming skills and stamina and follow the program for diploma A, B and C.