Corona protocol
We take your safety very serious. Here are our guidelines how we make that happen together.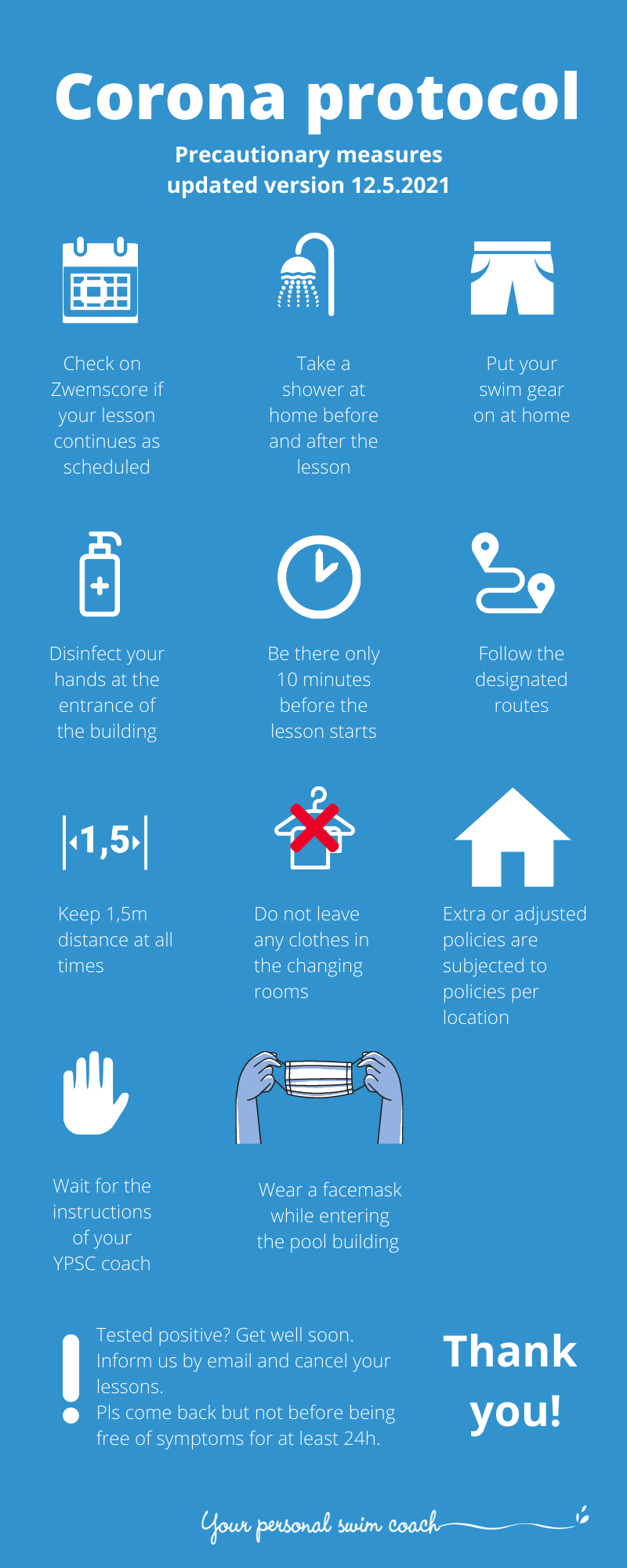 Corona protocol, general information
General:
By working according these official guidelines based on RIVM standards, translated to the National Swimming Associations, we are able to host our swimmers and keep on swimming in a safe environment. (latest update 10.14.2020)
All current guidelines (English translation of the guidelines from the Dutch government) can be found

 

here.
If you feel sick/ show symptoms or you had been in contact with a Corona patient, please stay at home.
Please note from October 2020 onwards you need to use a face mask when travelling by public transportation as well as entering the public area.
Shower and use the restroom at home.
Wear your swim gear already underneath your street clothes.
Follow the safety guideline of the swimming pool, which are showcased onsite.
The YPSC team has one "Corona responsible". He/She is available for help and/or questions.
Disinfect your hands when entering the pool building.
Follow the instructions of your YPSC coach at all times.
Before the Swim lesson
Do not arrive earlier than 10 minutes before the lessons starts
Please change your clothing in the designated area.
During the swim lesson
Keep at least 1,5m distance out- and inside the water from other students and coaches
Only use the designated routes to walk along the pool
Follow the safety rules, otherwise our designated senior coach will approach you, so you can adhere to them
Only use your own set of floating aid during the class. When you put it aside, then with enough space to other ones.
After the lesson
Make sure you leave the pool area, as well as the changing room as soon as possible by using the designated ways/ paths.
Do not shower at the pool and only if allowed, use the changing rooms.
Otherwise there will be designated areas, where you can put some clothes on.